Introduce your brand with a modern approach
with the help of YouTube Brand Channel Management Service in Gurgaon
Every Brand has its own set of products/services. It's necessary to have a dedicated Digital Marketing agency that helps you to manage your YouTube Brand Channel with the help of wonderful video shoots or the right set of Influencers to gain real impressions & increase brand awareness which can help you get more sales. This is where you can partner with Brandyse Media which can be the best YouTube Brand Management Agency in India.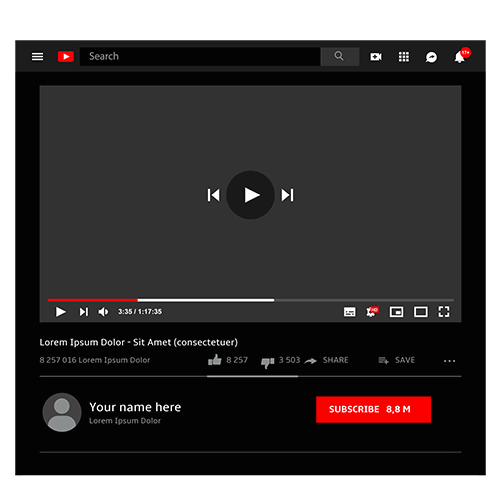 Opportunities - Youtube Provides
It gives you a chance to think for the future and make it safe & the source of increasing sales revenue in terms of more sales leads, increased brand awareness, video shoots, Paid Promotion Campaign, Collaborative Growth, opens a door to collaborate with Influencers, Channel Promotion Etc.
Increase sales leads,
Increase Brand Awareness,
Collaborate with Influencers,
Multiple Brand Impression,
Channel Promotion.
Some of the brands who successfully leverage the benefits of youtube to increase their sales

Google
Subscribers - 9.78 million
Red bull
Subscribers - 9.85 million

LEGO
Subscribers - 11.50 million

Play Station
Subscribers - 12.9 million
Go Pro
Subscribers - 10.2 million

Apple
Subscribers - 13.8 million

T-series
Subscribers - 170 million
Netflix
Subscribers - 18.7 million
It's not an easy task to take all the relevant factors along with the content creation at the same time. So, here Brandyse Media plays an important role as a Youtube brand management Agency to help your brand and its channel in every following possible manner.
A showcase of some successful & fastly growing start-ups who smartly use the youtube to multiple their revenue.
Tell us, what's in your mind or how do you want to take forward yourself and your channel.
Feel free to send your query to us. We will respond at earliest.